Being Run Over by Time or Keeping our Head Amidst the Tempest
(this blog is recorded on the full page: quick time player needed)


[Republished from November 11, 2012]
Two weeks have passed since my last blog. During this time, I have reflected on the illusive, uncontrollable (though we try to use it) nature of time, of which life, as we known it, is inextricably intertwined. Hopefully we will be drawn to question the force of natural laws on us, and think of their purpose, and controller—the Law Maker. We have our individual life's timing for significant or insignificant events—sometimes lethargy or stagnation—and then the larger field of our immediate surroundings, our country, and the whole planet, all of which can influence our decisions and how we go about things. We may feel like we are in a stagnant pool, going nowhere fast, or being diminished daily, while at other times we seem to be swept away by events much larger than ourselves or our family concerns. For Gaudiya Vaishnavas, the chaos that may surround and seem to threaten us, points to the lasting spiritual peace within, and the love of the soul for Krishna which enlivens us. Thus the blessing of upheaval or problems can be a motivation for spiritual practice. Life in the material world is always uncertain and changing, like unstable shifting sand, and still we try to avoid, or find shelter from this truth. Firm ground is the soul and its relationship to God.

(this blog is recorded on the full page: quick time player needed)


[Republished from November 11, 2012]
Two weeks have passed since my last blog. During this time, I have reflected on the illusive, uncontrollable (though we try to use it) nature of time, of which life, as we known it, is inextricably intertwined. Hopefully we will be drawn to question the force of natural laws on us, and think of their purpose, and controller—the Law Maker. We have our individual life's timing for significant or insignificant events—sometimes lethargy or stagnation—and then the larger field of our immediate surroundings, our country, and the whole planet, all of which can influence our decisions and how we go about things. We may feel like we are in a stagnant pool, going nowhere fast, or being diminished daily, while at other times we seem to be swept away by events much larger than ourselves or our family concerns. For Gaudiya Vaishnavas, the chaos that may surround and seem to threaten us, points to the lasting spiritual peace within, and the love of the soul for Krishna which enlivens us. Thus the blessing of upheaval or problems can be a motivation for spiritual practice. Life in the material world is always uncertain and changing, like unstable shifting sand, and still we try to avoid, or find shelter from this truth. Firm ground is the soul and its relationship to God.
Ideally our spiritual practices are the steady rock or solid foundation by which we ride the wild dragon, or avoid being depressed by unforeseen calamities, or just plain boredom—a modern condition, for the most part. If truth be told though, sometimes long standing devotees of Krishna are very affected by life's difficulties, losing heart or spiritual direction, seemingly for no discernible reason. Fortunately, those who have experienced a taste for Krishna centered activities and see life through spiritual philosophy, know that the ups and downs of life will pass. Such persons can steady themselves by going deeper into their spiritual center, or offer support to others.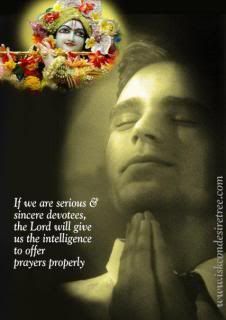 This idea speaks of the importance of having a support system of confidential friends or spiritual family to gain perspective, both in the good times and difficult ones. Our relationships have to be based on kindness, and the dance of give and take, or reciprocal dealings. While we want to be as selfless as possible in our giving, we can see our support to others in their need secondarily as a way to invest in our future need for their, or other's help. Whether we are a newer devotee or older one, we have to keep the course, doing what is necessary to either ride the storm or avoid being pulled down into an abyss. During these times it can be difficult to reach out, and yet that is part of the solution, as much as Arjuna was able to assess his deficiency, and approach Krishna for help, who became his guru. Reaching out means to approach mature, kind spiritual persons; it also means to intensify our prayer life by crying out to the Lord and being as attentive as possible in our sadhana (spiritual practices).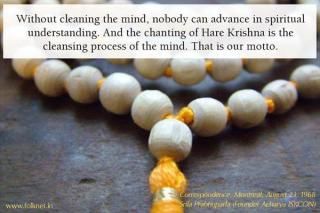 During the last few weeks I have gone from the enlivenment of good spiritual company (sadhu sanga) to being laid low by illness, where I could barely get out of bed. This definitely affected my mood, and life didn't appear good—like being alone on a cold, windy, rainy day with no heat or light—when my lackluster spiritual consciousness seemed prominent—and all those old desires beneath the surface seemed to define me. Spiritual advancement for most of us is a slow process—sometime painfully so— and not like a rocket constantly gaining altitude. Many old desires or attitudes of our youth haven't disappeared, but have merely gone underground, and surface from time to time.
We bring a lot of baggage to the spiritual path and while our pure spiritual practices can retire misconceptions and illusions, sometimes such baggage doesn't get unpacked (like dirt swept under the carpet), being still fueled by our secret (to others, and sometimes ourselves) desires for things, pleasures, or facilities. Understanding that we are consciousness, or a non-material soul who can't derive lasting or true happiness from matter, and that our true prospect lies on the soul platform through loving service to Krishna is the realization we have to get through our thick, and sometimes stubborn head. While we may know (or believe) this most of time and act on it, we will be tested until we are completely steady (nistha) in our practice and derive our "juice" or taste (ruchi) from devotional activities. Until then, we will have our days, or periods of doubt and delusion, or sometime even relapses into material enjoyment and conceptions.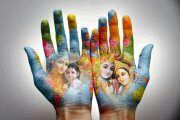 We are building our spiritual muscles so that with Krishna's help we can stay the course of bhakti, and deal with whatever life or time throws us. Success in spiritual progress will be ours by creating or putting ourselves in the most conducive environment with the best spiritually minded association, at least as much as we can, and by steady spiritual practice, which to me, is our daily dose of grace. As Emerson taugh, "We become what we think about all day long." Thus by our daily spiritual practice and remembrance of Krishna and the philosophy which supports bhakti, we will change the energy acting on us, from material discouragement, hopelessness, or depression, to the uplifting spiritual energy of faith, mercy, upliftment, and love. That is what Krishna consciousness is all about, and is the way to be in the world, but not affected by it. Gradually, gradually, we become stronger, and even though we slip and fall, we keep getting up. In developed spiritual consciousness even death of the body, or disease or disturbance, isn't a worrisome condition, because we will be firmly established in remembering, serving, and loving Krishna and his devotees. We are waking up to who we really are and the joyous life of the soul!