(this blog is recorded on the full page: quick time player needed)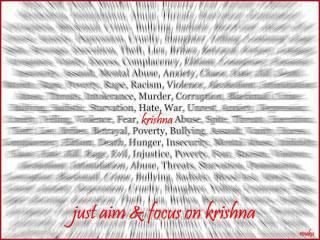 [This blog was originally published on 4-21-12, and has now been moved here] Everyone falls short, or doesn't progress as fast as they would like, on their spiritual journey. Can we ever think we love or serve Krishna sufficiently, when even great souls consider themselves deficient in devotion? Therefore, I always feel it is essential to portray my struggles as well as successes, so that devotees will be comfortable accepting and acknowledging where they fall short—at least within a select group, or a confidential friend. If we hide behind a veneer of external practice, trying to look good without admitting and sharing our struggles, we won't be able to hear how other devotees have dealt with similar problems. Some devotees think they are the only one with a particular challenge or sensual weakness, but if there was more honest sharing of experiences, devotees would see that while the exact details and degree of intensity vary, most of us have many of the same issues and struggles
To make spiritual progress we must be introspective enough to understand our strengths and weakness, as well as where we are now, and what the goal is (so we can remain fixed on it). There is a time to hear and chant about Krishna, and a time to be real about our material attachments and lack of spiritual standing. We only get to steadiness (nistha) and taste (ruchi) in bhakti through being conscious of, and retiring our anarthas, or unwanted ways of thinking and acting—and that is a long, winding road!

(this blog is recorded on the full page: quick time player needed)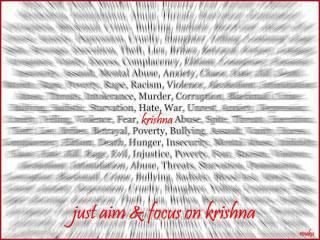 [This blog was originally published on 4-21-12, and has now been moved here] Everyone falls short, or doesn't progress as fast as they would like, on their spiritual journey. Can we ever think we love or serve Krishna sufficiently, when even great souls consider themselves deficient in devotion? Therefore, I always feel it is essential to portray my struggles as well as successes, so that devotees will be comfortable accepting and acknowledging where they fall short—at least within a select group, or a confidential friend. If we hide behind a veneer of external practice, trying to look good without admitting and sharing our struggles, we won't be able to hear how other devotees have dealt with similar problems. Some devotees think they are the only one with a particular challenge or sensual weakness, but if there was more honest sharing of experiences, devotees would see that while the exact details and degree of intensity vary, most of us have many of the same issues and struggles
To make spiritual progress we must be introspective enough to understand our strengths and weakness, as well as where we are now, and what the goal is (so we can remain fixed on it). There is a time to hear and chant about Krishna, and a time to be real about our material attachments and lack of spiritual standing. We only get to steadiness (nistha) and taste (ruchi) in bhakti through being conscious of, and retiring our anarthas, or unwanted ways of thinking and acting—and that is a long, winding road!
While there are both prohibitions and recommended activities in bhakti, they must be presented to others (and to ourselves in positive self-talk) in such a way to encourage the practice of sadhana, or the various rules of Krishna consciousness, as the solution to our suffering. In my early days of being a devotee I used to hear those "all or nothing" classes, which were heavy on condemnation of those devotees who were materially attached and not 100 % committed to spiritual practices and preaching, and very light on encouragement to gradually make progress from wherever one was spiritually. If I was able to even sit through such a class, I would feel depressed and hopeless, thinking that I should just throw my bead bag away and give up. Fortunately, I didn't give up, but just barely! Other devotees did give up their attempt to serve and love Krishna, and went away discouraged and dejected. While everyone has to take responsibility for their lives and spiritual absorption, at least those who are leaders and teachers, should give spiritual illumination, love, and encouragement–feeling compassion and understanding for the struggles of devotees.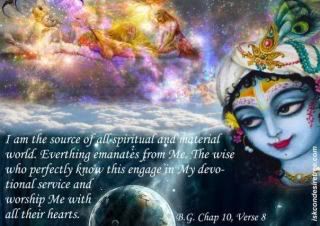 As some people took up the bhakti path but weren't able to persevere, I can say that I am a survivor of the early days of the Krishna movement. Any long term devotee has their own unique survival story, which simply means that on any path there will be challenges and tests, which help one become stronger in their chosen direction. I came in 1970 when most of us, while sincere and enthusiastic, were still very immature and unsympathetic toward those devotees who were not up to the spiritual standard (like we thought we were on). I can attest how I would have greatly benefited from experienced elders who might have normalized my plight over the years in struggling to remain steady in my practices and in dealing with, and overcoming, various sensual attractions, and life issues we all have to deal with as we mature.
I went through periods of discouragement and despair, though I somehow kept on the path. Condemnation for my weaknesses would not have been helpful to me, though a little bit of understanding, kindness, and practical guidance would have made a world of difference. By hearing about the past mistakes and immaturity of others we can avoid repeating history–which is one reason I write. Having faith, and at least a bit of experience that despite our difficulties, doubts, or delusions, etc., or our own version of walking through the "valley of the shadow of death", we will never-the-less experience Krishna's smile and help, can be very strengthening. At times, some of us feel that our spiritual weakness is like fighting against God's cruel fate for us. Yet, in our clearer spiritual awareness, we understand that Krishna is perfectly using our life situations to help us take full shelter and refuge in Him.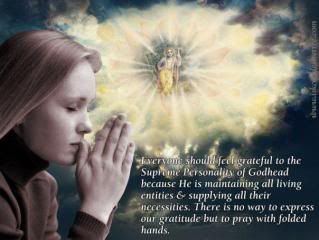 Admittedly there is "tough love" where we may be spoken to strongly, yet I appreciate the words of my friend and mentor Bhakti-tirtha Swami, who used to say that you shouldn't criticize or correct someone that you don't love. In other words, when we know someone cares for us, and has our interest at heart, we will more easily be able to hear their strong words meant to help us. In my experience, Shrila Prabhupada was sometimes very strong in correcting a disciple, yet his anger dissipated as quickly as it came, and he always tried to encourage us. Plus we knew he cared about our welfare and loved us.
I am speaking of the general mood of encouragement in our sharing the many aspects of bhakti. I am not unaware of the challenges in doing this, and lest you think I am Pollyanna, I should share some of them. For example, we have to set boundaries with those who are continually and obstinately difficult, severely troubled, or have anger or impulse control issues, and create disturbances—and won't get help from trained professionals. Additionally, some devotees mentally or physically abuse others, even our children, and have to be excluded from our communities. In Kali-yuga so many people have terrible karma and are disturbed, and while we want to be very liberal and inclusive in encouraging everyone to take to bhakti, we also have to be careful to protect those in our charge in our communities and families. Having said this, I would also recommend that we should not close our hearts to the severely troubled and uncontrolled, and pray for their welfare, though from a distance. We can just imagine the amount of their suffering, even as they cause suffering to others. And there should be trained devotees at each center who will provide these unfortunate devotees help, or refer them to others, if in fact they are willing to accept it. This is one true test of our compassion and spirituality.