Faith and Conviction in the Power of Chanting the Holy Name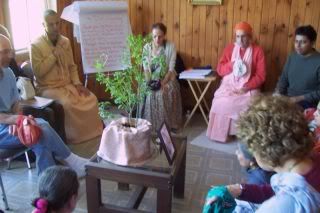 II thought I would share a response I gave to a question about the 7th verse from Rupa Goswami's Upadeshamrita, or Nectar of Instruction, which Prabhupada has translated for us. I was asked if I believed in the power of the Holy Name to awaken our spiritual consciousness and give us a natural taste for chanting. I was also asked why we don't develop more of a taste after chanting for many years, and what we can do to increase our relish for Radha Krishna's holy name. Here is the verse and my answer: "Although the tongue of one afflicted by the jaundice of avidya [ignorance] cannot taste anything sweet, it is wonderful that simply by carefully chanting these sweet names every day, a natural relish awakens within his tongue, and his disease is gradually destroyed at the root."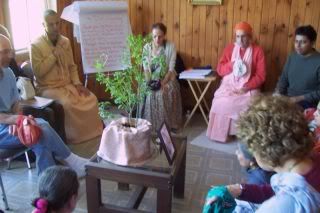 II thought I would share a response I gave to a question about the 7th verse from Rupa Goswami's Upadeshamrita, or Nectar of Instruction, which Prabhupada has translated for us. I was asked if I believed in the power of the Holy Name to awaken our spiritual consciousness and give us a natural taste for chanting. I was also asked why we don't develop more of a taste after chanting for many years, and what we can do to increase our relish for Radha Krishna's holy name. Here is the verse and my answer: "Although the tongue of one afflicted by the jaundice of avidya [ignorance] cannot taste anything sweet, it is wonderful that simply by carefully chanting these sweet names every day, a natural relish awakens within his tongue, and his disease is gradually destroyed at the root."
The first part of this verse is easy to be convinced about, since all devotees have been, or are presently, afflicted by some degree of ignorance, and corresponding lack of taste. How much I, or anyone, is not convinced that there is an ocean of nectar to be experienced by chanting the holy name, is more difficult to own up to, especially after years of practice. Any devotee accepts many things in theory. For example, we may believe our true identity is spiritual, not material, yet the realization may be lacking. Haridasa Thakur was praised for acting and speaking properly, whereas some others may either speak or act well, but not both. This teaches us that merely being able to repeat the theory—even really liking the theory—without realization, is insufficient to prevent deviations, and call our spiritual progress. We may be stuck treading water on the vast intermediate plane of anartha-nivritti [stage of eliminating unwanted thinking and acting], unsure how to change.
Having said that, I would also say that in general, anyone who has been initiated into the chanting of Hare Krishna, and is doing so with enthusiasm, has hope for success, and some experience of transcendence, either in japa or kirtan. Enthusiasm and a humble attitude are essential building blocks on the road to prema. Although Prabhupada defines enthusiasm in NOI, as endeavor executed with intelligence, in order for the intelligence to remain fixed, there must be some realization and taste. How much realization will be revealed in one's intensity, and fixity of practice, and whether one is a religious devotee, mechanically following the rules (niyamagrha, as found in text 2 of NOI), or a spiritually minded devotee, who lives and breathes their spiritual life. Personally, the quality of my spiritual practice is mediocre, my taste for chanting small, yet I have faith to continue, praying for progress.
The reasons that our taste for chanting is lacking can be observed by how we have lived our life up to this point, and what our worldly attachments and hankerings are within our heart. If laulyam, or intense eagerness is the price for success, and this is deficient, we have to uncover our absorption. Our problem is a spiritual heart disease manifested as polluted consciousness. The process for recovering our spiritual health, or gaining a real taste, is cleansing the heart by pure chanting.
Pure chanting is impeded by committing offenses at the feet of the holy name, which includes offending advanced devotees. Therefore, if our taste is lacking we can understand we are currently committing offenses to the holy name, or have done so in the past. We read in the Cc, that the root cause of devotion to Shri Krishna is advanced devotee association. Thus, we must find them, serve and inquire from them, and chant with them. Having a serving attitude toward the devotees and Deities will purify us, and reveal the impediments to our progress.