Humor, Bliss and the Power of a Holy Place: New Vrindavan Japa Retreat Two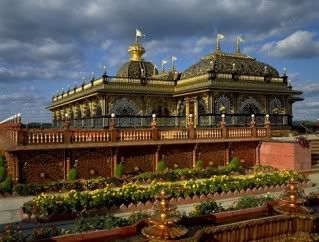 April New Vrindavan
Japa Retreat Two
1st 64 round day
in the afternoon
with merciful God
and Goddess in a box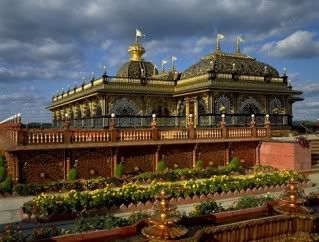 April New Vrindavan
Japa Retreat Two
1st 64 round day
in the afternoon
with merciful God
and Goddess in a box


Laxmi, 3 shilas and
Shri Giriraja
give their audience
for those with
spiritual eyes–
even we can't see
their spiritual identities
still the key
to revelation
is here:
chanting the Holy Name
with Tulasidevi by
the Guru's order
through his followers
in disciplic line
from Mahaprabhu
(Shri Chaitanya).


By huge Gaura-Nitai
on the lake
taking prasad
in cabin eight–
difficult prep
for seriousness
of mauna-(silent)-vrata
certainly delicious
but out of the end
it plops
very full enchiladas
the insides fall
on the plate
and on our mouths
so hard not to laugh
as it seems quite gross
taking two hands
to stuff the mouth
no cool profile here
or sophistication
humbling, yet humorous
varieties of food dovetailed
preps from the West
offered to Krishna
then to his devotees
which makes it perfect.


After cold rainy days
there's warm afternoon sun
clear skies and smiles
the sound of peacock's call
bright color of grass
trees and sky
on the lake swims a swan
his mate on the nest
revealing 3 eggs
as she adds straw
another sign of spiring
along with daffodils
by the hundreds
and buds on the trees
all this a backdrop
for chanting Krishna's name.
After prasad [spiritual food]
(another blessings and gift)
we wait to return
to our bhajana-kitir
(place of meditation)
the most sacred place
Prabhupada's Palace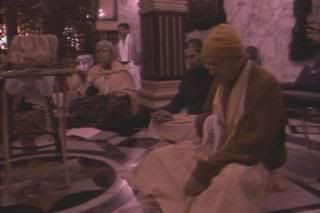 proclaiming the glories
of Gauranga's pure devotee
who inspired us today
to increase our chanting
with our hopes and prayers
to enter Vrindavana's mood
of selfless pure service
no conditions but love
we rejoice at our
rare and supreme
good fortune.