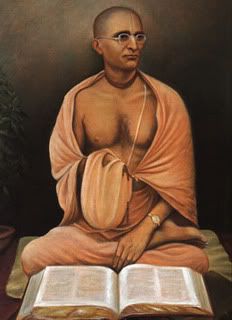 As aspiring devotees of Krishna it is essential that we have a philosophical attitude toward life, rather then only religious sentiments. Prabhupada's (my guru's) sannyas name–Bhaktivedanta Swami–teaches us that we have to have a philosophical understanding–Vedanta–as well as devotion–Bhakti. He taught us an important idea originally coined by Rabindranath Tagore: "Religion without philosophy is sentiment, or sometimes fanaticism, while philosophy without religion is mental speculation."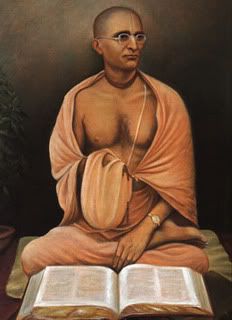 As aspiring devotees of Krishna it is essential that we have a philosophical attitude toward life, rather then only religious sentiments. Prabhupada's (my guru's) sannyas name–Bhaktivedanta Swami–teaches us that we have to have a philosophical understanding–Vedanta–as well as devotion–Bhakti. He taught us an important idea originally coined by Rabindranath Tagore: "Religion without philosophy is sentiment, or sometimes fanaticism, while philosophy without religion is mental speculation."
___________________________________________________
On the appearance day of Prabhupada's guru–my param or grandfather guru–Shrila Bhaktisiddhanta Sarasvati Thakur I had the opportunity to give class at the Temple to commemorate the significant occasion. Such days are very important and by praying to these great devotees, we can receive their blessings. For our benefit a number of biographies of him have been written, and there are the passed down narratives of his disciples to their disciples. Although I did read one of his lectures at the end of my talk, I thought of some important perspectives to consider for our progressive spiritual life.
As aspiring devotees of Krishna it is essential that we have a philosophical attitude toward life, rather then only religious sentiments. Prabhupada's sannyas name–Bhaktivedanta Swami–teaches us that we have to have a philosophical understanding–Vedanta–as well as devotion–Bhakti. He taught us an important idea originally coined by Rabindranath Tagore: "Religion without philosophy is sentiment, or sometimes fanaticism, while philosophy without religion is mental speculation."
One the one hand it is very important to study the books, listen to the lectures, and study the life of our Shrila Prabhupada (Shrila Bhaktisiddhanta Sarasvati Maharaja was also referred to as Prabhupada by his disciples–so I refer to his disciple who is my guru as "my" or "our" Prabhupada to avoid confusion, though Sarasvati Thakur is also "ours" and "my"). On the other hand it is also helpful at some point to study the life and history of Shrila Bhaktisiddhanta Sarasvati Thakur and his mission.
History is very complex with many nuances of understanding and we have to be careful we don't consider ourselves as experts about it, and make false assumptions from a limited perspective. Prabhupada only gave us a few statements regarding this mission and its problems after the departure of Shrila Bhaktisiddhanta. Thus it is easy to misunderstand this history and make sweeping generalizations. Although he was sometimes critical of his godbrothers it is also apparent that he loved them, a few of whom he considered very spiritually advanced.
By studying that history we can learn a lot about human beings, institutional limitations, and difficulties when one's guru leaves. Ideally we can apply these lessons to the disappearance of our own guru and the current times we live in. Truly history tends to repeat itself if we don't study it and imbibe its lessons. Even if we do study it, some tendencies are very strong and difficult to avoid, especially when emotions overcome thinking–when we react rather then respond thoughtfully. Understanding the frailties of human beings we can at least pray to be a thoughtful, introspective and broad-minded devotee, trying to understand different perspectives.


I spoke about how for those of us who are initiated devotees or have been around Krishna consciousness for some time, it is usually easy to look at the previous acharyas (like Shrila Bhaktisiddhanta Sarasvati) and our own guru in the most favorable light, seeing or imagining how they were or are great devotees. We have learned to give them all reverence, looking for the best, and are guarded against thinking or saying anything demeaning or offensive about them or their character.
Shrila Bhaktivinode Thakur (Shrila Bhakitsiddhanta Sarasvati's father), Bhaktisiddhanta himself and our Shrila Prabhupada were all great reformers and empowered preachers who encountered much opposition from their contemporaries, even amongst the Gaudiya community. It is easy to side with them and see how wrong their detractors were. We could think that we would never have made such a mistake in regard to such superlative devotees and that we are much better then their critics.
However, I think it would be useful to imagine ourselves as a contemporary of each of these great devotees. From my perspective, and I think it is a reasonable possibility, had we been living during those times, we could easily have been critical of them being devoid of our current learned regard. We might have seen them in a very ordinary way, or as proud to be challenging the existing tradition or going outside of it. It is also possible–likely in my case–that some of these critics were more advanced them we are. Some were lifelong celibates and sannyasis very absorbed in their spiritual practice–and still (at least in the beginning) didn't appreciate the contribution of these great devotees due to a relative vision or familiarity as contemporaries. This should give us pause about ourself.
It is important to think about this perspective because sometimes devotees in the name of glorifying Prabhupada are critical of his godbrothers and disciples who have accepted the position of guru or a leader of devotees. We do need to understand the proper conduct of saintly persons. At the same time we want to be "good quality" finders, and not fault finders. As a general rule we want to err on the side of appreciation–cautious of our tendency to criticize. I again have to emphasize the need for balance.
If the "emperor has no clothes" we have to speak the truth in the proper mood, and reconcile the absolute and relative in regard to gurus and leaders. Becoming broadminded, deeply spiritual people we have to look beyond externals or what may be dogma, and discriminate between form and substance. What is Krishna consciousness anyway? To do this we have to study the Bhakti literature and have serious spiritual practice in the company of devotees who are on that high spiritual level. If we don't believe there are such devotees, it certain we won't find any. Krishna reciprocates with our strong desire–sincere or otherwise. Let us humbly learn from history, and pray not to repeat it. Are we seeing spiritually or are we just caught up in relativity, opinions and our own shortcomings?