The Life of the Poem, or the Death of the Soul
(this blog is recorded on the full page: quick time player needed)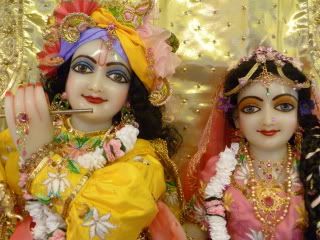 Sitting before Their Metamorphoses
newly painted, revitalized Radha Krishna,
living art infused with bhakti we can feel
indescribably, yet noticeably, increased beauty—
chanting the king of poetry, the Gayatri mantra
with the desire to share my heart bubbling up
like provided raw ingredients and cream
with which I make butter and ghee, and offer up.

(this blog is recorded on the full page: quick time player needed)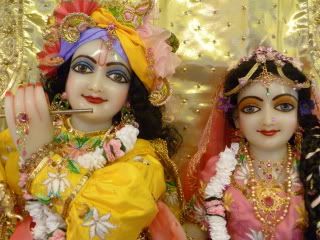 Sitting before Their Metamorphoses
newly painted, revitalized Radha Krishna,
living art infused with bhakti we can feel
indescribably, yet noticeably, increased beauty—
chanting the king of poetry, the Gayatri mantra
with the desire to share my heart bubbling up
like provided raw ingredients and cream
with which I make butter and ghee, and offer up.
The steamroller of time moves along
pulling all into its circle of limitations,
so we try to accomplish something of value
before our day, or life, is flattened and changed,
not to be caught up in merely existing for naught
but to slow down to learn soul lessons
being helped, and helping others
by thoughtful words, verses for Krishna.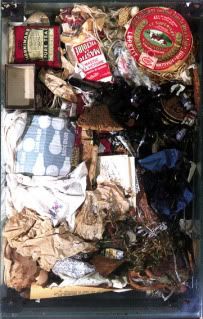 Is something art or poetry
just because I, or someone says so,
like one who throws up garbage
on a canvas, telling us we should know:
"This is profound truth, and glorious art,"
or rhapsodic rhythms, profound metaphors,
brilliantly ornate word arrangements
which only titillate the mind, not the soul.
While I do appreciate and aspire to learn
the writer or poet's craft in displaying
literary embellishments, insightful metaphors,
a great story, an interesting, stimulating read—
art for art's sake misses life's real point
a jugglery of vocabulary without purpose
merely arrogance, if we forget our Source
of inspiration, life, and abilities.
A fourteen line poem examined
lavishly praised by teacher and students
who find layers of meaning in metaphors
amazed at complexity in simplicity
concluding, the author didn't directly do it
but connected to their unconsciousness,
the truth of imagination and intellect
which is their god to praise.


Everyone has a lens or bias to filter
so I will be criticized as a shallow theist
who is against modern art and creativity—
but no—we should use every tool available
both modern and ancient art forms,
not for nothing except human vainglory,
rather, as an expression of devotion,
soul philosophy, the glory of Krishna.
I don't criticize the writer's gift
only because mine are limited (though true)
smugly saying meaning is everything
while having no poetic propensities—
the spiritual quest is all important,
if not meaning, at least to search for it,
using words as a bridge of revelation
a blessing bestowed to uncover God.
Rising sun heralds the new day of possibilities,
the Lord's watchful eye, cosmic time machine;
indoor plants seemly grow for themselves
yet are benefited by beautifying our temple:
everything teaches us about the Unseen,
the sustaining, nurturing Force, Shri Krishna,
Who we are meant to know, love, and serve
giving us life, inspiration, words for our poem.