Thoughts during the 64 Round Day, South Africa, Drakensburg Mountains, December 2009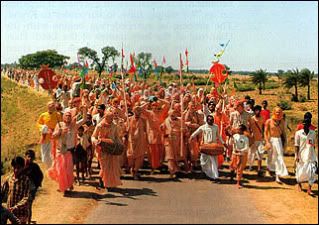 Reminded by my present pain
of a powerful uplifting experience
Mayapura, India, February 1974
Shri Chaitanya's appearance day,
full moon celebration where
the vision of the great saint
Thakur Bhaktivinode fulfilled
by the coming together
of worldwide devotees
chanting, "Jaya Sacinandana,
Gaurahari"—
my contribution: dysentery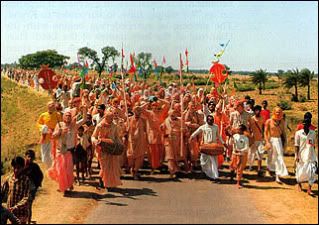 Reminded by my present pain
of a powerful uplifting experience
Mayapura, India, February 1974
Shri Chaitanya's appearance day,
full moon celebration where
the vision of the great saint
Thakur Bhaktivinode fulfilled
by the coming together
of worldwide devotees
chanting, "Jaya Sacinandana,
Gaurahari"—
my contribution: dysentery
going on pilgrimage
bundled up in the heat
looking for a place
to squat, and answer
Nature's running call.
Such misery, yet strangely ecstatic
as the false ego was also weak, sickly
as it's difficult to be proud
when what you eat
goes right through you
and locals know your secret
while the hogs are waiting
yet this forced humility
gave me my best experience
of the holy dhama—
nothing to do but
take shelter of Guru, & Gaura-Nitai.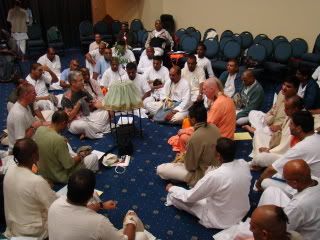 That momentous Mayapur year
at my tender, green age of 23
my false ego, enjoying spirit
strongly smashed to pieces,
though not as intense today
by far, still I remember
the misery and ecstasy
as I try to sit and chant 64
with my old knees, legs and
back paining me,
the mode of ignorance
constantly attacking me
with unwanted sleepiness
wasting important hours
so I had to stand and walk—
never-the-less
I keep bringing back my
consciousness to the mantra
while thinking of the meaning.
I will not give up the fight
as the false ego tires into submission
at least somewhat noticeably as I
mix my frequent pleading prayers—
that despite my faults
and conditioning I may be
fixed in Bhakti in love
with the Lord's of my heart
Shri Shri Radha Gopinatha
Shri Shri Gauranga Nitai
being a good example for others
yet blessed with Vaishnava humility.
When will that day be mine?
having absolute faith
in Nam Prabhu's superlative power
to awaken love of Krishna
the most valuable jewel of the Name
the perfection of my time
and life to be chanting
with nothing better to be doing
then purely hearing
praying to be open hearted
pleading, scrubbing the dirt
making the heart a fit place
for Radha Krishna to reside
and building them a throne
and Crystal Temple to live
here, now, and forever
my eternal position
to serve the Divine Couple.