Why and How to Understand Krishna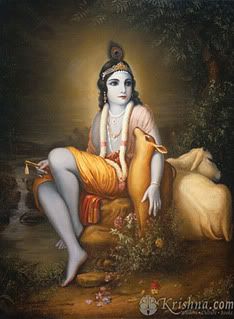 When the British were ruling India most of them failed to appreciate Krishna's activities or teachings in their cursory study of Vedas, through the colored lens of their limited religious, colonial, racist eyes. Even many Christians decry the attempt of secular scholars (or those of other religions) to expound on the life and teachings of Christ, and recommend understanding the culture that existed during his life. I think it is safe to say that in studying any religion, those unfamiliar with the culture existing during its founding, or who are not sympathetic to the teachings will not really be able to understand the essence of the tradition. This is certainly true as well with the Vedic scriptures of India. Most of the British studied the Vedas with the idea of finding fault with it and debunking what they thought was religious superstition at best. Therefore, Krishna in their heart, showed them what they were looking for! Krishna reciprocates with our desire to either know or ignore him. [BG 4.11]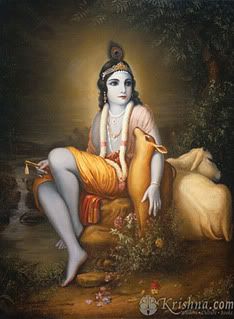 When the British were ruling India most of them failed to appreciate Krishna's activities or teachings in their cursory study of Vedas, through the colored lens of their limited religious, colonial, racist eyes. Even many Christians decry the attempt of secular scholars (or those of other religions) to expound on the life and teachings of Christ, and recommend understanding the culture that existed during his life. I think it is safe to say that in studying any religion, those unfamiliar with the culture existing during its founding, or who are not sympathetic to the teachings will not really be able to understand the essence of the tradition. This is certainly true as well with the Vedic scriptures of India. Most of the British studied the Vedas with the idea of finding fault with it and debunking what they thought was religious superstition at best. Therefore, Krishna in their heart, showed them what they were looking for! Krishna reciprocates with our desire to either know or ignore him. [BG 4.11]

__________________________________________________
From the perspective of the Vedic scriptures of India—especially evident in the Vaishnava texts—understanding Krishna is the supreme goal of life, without which one's life is considered a failure. All the books translated by Shrila Prabhupada, his predecessors, and those who follow them are meant for this purpose. In addition Krishna.com exists to help interested people be introduced to Krishna, and embark on the path of understanding and loving him.
Why is understand Krishna important? Aren't there more important things to do?
That would depend on what you consider the goal of life.
There are many reasons why you should want to understand, and make the endeavor to realize who Krishna is, and what he teaches. To begin with, self understanding is considered an important part of real knowledge, and the Vedas teach that we are part of God—we have some of the same qualities as he, in very minute quantities. Therefore, to understand our source with whom we are eternally and intimately connected to is part of self understanding. We are a spark or ray of the sun of God, so to understand ourselves—a ray or part of the sun–we have to understand the sun, or God. A part of a machine on the floor has no meaning. It has meaning only when it is working in the machine for which is was designed.
What does Krishna say about the importance of understanding him in the Gita? Here are two verses:
"One who knows the transcendental nature of My appearance and activities does not, upon leaving the body, take his birth again in this material world, but attains My eternal abode, O Arjuna." [BG 4.9]
Knowing Krishna means that we don't have to take another birth in the material world because the primary purpose of the Universe is to foster remembers of him and to revive our eternal relationship to him. Knowing Krishna also means understanding our true spiritual self or soul and the laws of the Universe such as the laws of karma and reincarnation.
"Whoever knows Me as the Supreme Personality of Godhead, without doubting, is the knower of everything. He therefore engages himself in full devotional service to Me, O son of Bharata." [ BG 15.19]
There are so many departments of knowledge, but the most important is to understand God or Krishna, and to act on this knowledge in faith and love. Knowing Krishna may not reveal how many windows are in the Empire State Building or the cause of some conflict, yet if we truly know Krishna we are considered to have obtained the most important knowledge. The most important activity is devotional service to Krishna performed in love.
There is "self realization" and "God realization". From the Vaishnava perspective self realization is contained within God realization, and particularly within Krishna realization. Krishna includes all other forms or incarnations of God. This was the one of the points I was trying to make in my blog, "One Spiritual System in the Universe". If we could agree on this point—not even that Krishna is the source of all incarnations—but that God is infinite and has many expressions–it would be much easier for people to entertain the idea of many forms of God, and religions to explain them. Fanaticism is the opposite of conviction arising from doubt and black and white thinking. It only comes from a lack of spiritual knowledge and a philosophical basis for religious faith.
Though many different religionists would agree that we are part of God, they will not agree that Krishna is God—and certainly not that their conception of God expands from Krishna. Just like someone once said to me on the street that they believed in God, but that Krishna—as they pointed to him in a Back To Godhead magazine—was not him, since he wasn't mentioned in the Bible. One of the challenges of the great Vaishnava saintly philosophers is for people to see if the claim that Krishna is the source of all incarnations can be substantiated–and that serving Krishna and his devotees is the highest happiness. In order to do that there is a particular recommended process.
Krishna is the Absolute Truth, the beginningless source and sustainer of everything, and origin of all incarnations of God. He is beyond our material logic, unknowable by physical effort, and inconceivable. Scientific experiments or demands for his presence will be ineffectual in revealing the truth about him. Therefore many people have not been able to understand him, because their approach was proud and material. Even reading the Vedas will not reveal Krishna if a person doesn't hear from those who live and exemplify the teachings.
When the British were ruling India most of them failed to appreciate Krishna's activities or teachings in their cursory study of Vedas, through the colored lens of their limited religious, colonial, racist eyes. Even many Christians decry the attempt of secular scholars (or those of other religions) to expound on the life and teachings of Christ, and recommend understanding the culture that existed during his life. I think it is safe to say that in studying any religion, those unfamiliar with the culture existing during its founding, or who are not sympathetic to the teachings will not really be able to understand the essence of the tradition. This is certainly true as well with the Vedic scriptures of India. Most of the British studied the Vedas with the idea of finding fault with it and debunking what they thought was religious superstition at best. Therefore, Krishna in their heart, showed them what they were looking for! Krishna reciprocates with our desire to either know or ignore him. [BG 4.11]
In general people, even very religious people, have a very vague idea of the person of God. Either they think he is just a force or energy field surrounding everything, or that no one can see God and live, or even say his name. Thus certain religions believe that any depicted form of God or his prophets is idolatry, or that the name of God is too holy to say. Not only do some decry depictions of God in a human form, they say it is merely religious sentimentality, a limitation, or anthropomorphism. It doesn't help the decreasing popularity of a personal God that many wars or conflicts have been fought between theists, over which conception, proper ritual, or name of God is correct.
Although understanding God is beyond logic, it takes an intelligent and spiritually logical person, with a devotional heart to understand him. What to speak of uncovering the mystery of Krishna? There is more written about Krishna's form, nature and activities then about any other form of God. Thus there is more to disagree with according to one's limited thinking or feeling power.
It would seem that vagueness allows more people to practice certain religions since it lets everyone make up their own conception. It also leads to ideas of God's impersonal nature or conceptions of voidism—that there is no God beyond matter. Some religions are not only vague about God, but vague as far as the practices or rules of their religion. That make sense, since they don't really know who or what God is, they don't feel the importance to explicitly define how to be religious or instill a sense of urgency to obtain God. These religions are more about making people's lives more materially, sensually comfortable though religious piety, and giving hope about some even greater standard of heavenly enjoyment in the here-after. There is no real knowledge of the qualities of the eternal soul and God or their relationship.
The Chaitanya Vaishnava or Krishna conscious perspective is that we need to hear about the qualities and activities of Krishna so our dormant love for him can awaken. We are all originally—by our spiritual constitution—a lover of God. The lyric from an old song holds true in our understanding of Krishna: "Getting to know you, is getting to love you." The more we know about him the better, and thus by hearing about Krishna from faithful advanced devotees of Krishna, we will be attracted to him and want to serve him.
Bhakti or devotional service, although it may seem foreign initially, is the most natural thing for the soul. Sanatana Dharma really means our eternal nature of service to Krishna. Lord Chaitanya said to his great disciple Sanatana Goswami: "It is the living entity's constitutional position to be an eternal servant of Krishna because he is the marginal energy of Krishna and a manifestation simultaneously one with and different from the Lord, like a molecular particle of sunshine or fire. Krishna has three varieties of energy." Madhya 20.108–109
We are by nature servants or cooperators with the Supreme Lord, and this is expressed through a particular relationship with him, as appreciator, servant, friend, parent or lover. This serving ego is our eternal constitutional position and serving God is revived by the process of Bhakti-yoga, especially hearing and chanting the Krishna's holy names and activities (lila). There are unlimited literatures expounding on these spiritual topics. Please dive into the ocean of nectar of Krishna's pastimes and holy names, and realize your eternal blissful nature—for all time, now and forever.
I will end with a few verses from the Shrimad Bhagavatam:
"In the revealed scriptures, the ultimate object of knowledge is Sri Krsna, the Personality of Godhead. The purpose of performing sacrifice is to please Him. Yoga is for realizing Him. All fruitive activities are ultimately rewarded by Him only. He is supreme knowledge, and all severe austerities are performed to know Him. Religion [dharma] is rendering loving service unto Him. He is the supreme goal of life." [ SB 1.2.28-29]
"Persons who are actually intelligent and philosophically inclined should endeavor only for that purposeful end which is not obtainable even by wandering from the topmost planet [Brahmaloka] down to the lowest planet [Patala]. As far as happiness derived from sense enjoyment is concerned, it can be obtained automatically in course of time, just as in course of time we obtain miseries even though we do not desire them." [SB 1.5.18]
"Learned circles have positively concluded that the infallible purpose of the advancement of knowledge, namely austerities, study of the Vedas, sacrifice, chanting of hymns and charity, culminates in the transcendental descriptions of the Lord, who is defined in choice poetry." [SB 1.5.22]
"It is personally experienced by me that those who are always full of cares and anxieties due to desiring contact of the senses with their objects can cross the ocean of nescience on a most suitable boat-the constant chanting of the transcendental activities of the Personality of Godhead." [SB 1.6.34]
"We never tire of hearing the transcendental pastimes of the Personality of Godhead, who is glorified by hymns and prayers. Those who have developed a taste for transcendental relationships with Him relish hearing of His pastimes at every moment." [SB 1.1.19]